When you are looking to send a greeting card to a friend of family member that has to do with a life event, like a birth, marriage or sympathy card for a death, you cannot go wrong by using the butterfly as the symbol in your card.
Many cultures use the butterfly as a symbol of the soul, even used by the Christian religion as a symbol of rebirth and resurrection. They also show the true meaning of struggle as this majestic insect has to pull itself out of a cocoon to transform from a caterpillar. Which makes it a perfect symbol for life journeys. Cards made with butterflies are thoughtful and symbolic with many applications for the card maker. Probably why many supply companies bring out new supplies with this theme every year.
Butterfly Theme for Sympathy Cards
One of the most touching themes for using butterflies in your card making is for the sympathy card. I've always been touched by handmade cards when they came for the deaths my family and I have had to face. One thing that makes them perfect, besides their symbolism, is that everyone knows what they symbolize, therefore any thoughtful quote can be placed with them on the card – the quote need not have to do with butterflies.
Butterfly Theme for New Baby Cards
New life is celebrated by a butterfly on a card. You can use as many colors are in the rainbow or just several tones of the same color for your butterfly card. So using pastels for new baby cards is easy to do with this theme. And again, any saying, poem, or quote will work.
Butterfly Theme for Love, Valentines, Wedding Cards and Invitations
The love journey a couple takes to get to be married and with each other forever is one of the greatest things our society does. The butterfly symbolizes this greatest, this love, this beauty.
Butterfly Theme for Work, New Job, and Retirement Cards
Change, which is another theme butterflies are the symbol for, works well with any type of work related change. Then, using a simple 'Congrats!' or 'Way to go!' for the wording on the front of the card makes your sentiment perfect.
Butterfly Sayings for Cards and Scrapbooking
"A butterfly measures not in minutes, but in moments." ~ unknown
"Happiness is a Butterfly, which when pursued is always just beyond your grasp, but which, if you will sit down quietly, may alight upon you." ~ Nathaniel Hawthorne
"Just living is not enough," said the butterfly. "One must have sunshine, freedom and a little flower." ~ Hans Christian Andersen
A snowflake is a winter's butterfly. ~ Hero Arts
Flit and fly like a butterfly. ~ Denise Witmer
Butterfly Poems for Inside Cards, Scrapbook Layouts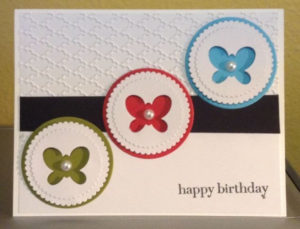 Hurt no living thing;
Ladybird, nor butterfly,
Nor moth with dusty wing,
Not cricket chirping cheerily,
Nor grasshopper so light of leap,
Nor dancing gnat, nor beetle fat,
Nor harmless worms that creep.
Author: Christina Rossetti
A two year old is so many things.
A tiny discoverer of butterfly wings.
A hugger of teddies, a sweet sleepy head.
And someone to dream for in bright years ahead.
A special new person who right from the start,
has a place in the family and a coarse in your heart.
And just when you think you've learned all the things,
that your dear son is,and the joy that he brings,
a hug or a grin comes with such a sweet surprise,
that love finds you smiling with tears in your eyes.
Author: unknown
May the wings of the butterfly kiss the sun.
And find your shoulder to light on.
To bring you luck, happiness and riches.
Today, tomorrow and beyond.
An Irish Blessing
Butterfly Scrapbook Layout Titles:
Butterfly Kisses
Social Butterfly
Flutter by Like a Butterfly
When making cards using a butterfly theme, you are being thoughtful and those who receive them will feel the love and caring sentiments you are sending.