The most meaningful Christmas ornaments are the ones with a photo. While you can have those that come your travels and special places that you tell your family and friends about when they see them, these have to be explained.
A photo ornament speaks a thousand words! From the sweet ones your child makes at school to the pictures you place in the ornaments you made… they make your tree original and uniquely yours.
Use old tin plates and decorative baking pans to frame old fashioned black and white pictures for a primitive vintage look. The different shapes make this Christmas ornament a great choice for all those pictures that aren't good enough for your albums. Get the
directions here
.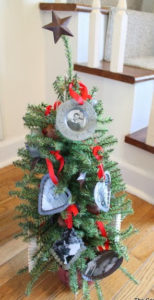 This ruler framed photo is an awesome way to turn school pictures into ornament keepsakes. So simple to make and fun to display and you can make it a yearly by doing one every year and marking the grade level on it. Check out the instructions here.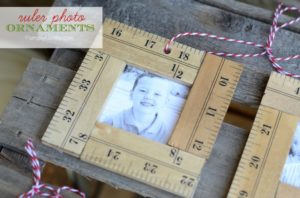 These photos are mounted on wood mats, and I just love them. I especially think the initial placed on the ornaments are super sweet! The directions are here.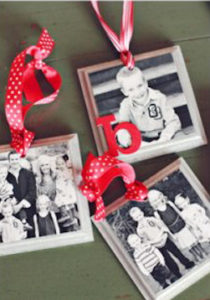 I bet you have wondered how in the hec people are able to place photos in the glass ball ornaments. This blogger shows you how and makes it simple to do. So, if you've ever wanted to make this type of ornament, take a look here.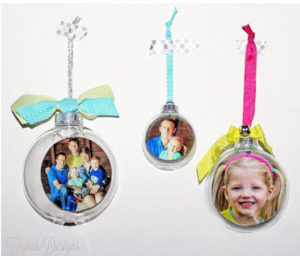 Martha Stewart always has cute things to make on her site and these photo ornaments are no exception. She gives you templates to download to help with cutting out the shapes. Or, just use the ideas in the directions and make your own shapes. Here they are.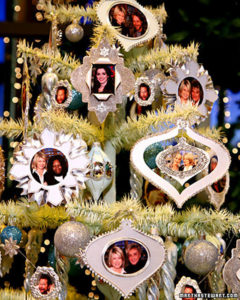 This is one of those cool 'science meets crafts' type of fun! With this photo ornament, you actually transfer the photo on to a piece of wood. Then, seal it so it stays forever and ever. Great keepsake! While some think that this only works for black and white photos, I have seen them done in color on very light wood and they looked amazing! So test it out and have some fun with this Christmas craft. Learn how to do it here.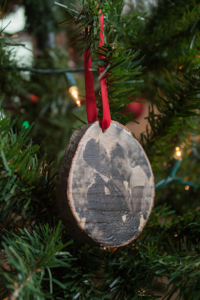 Wood slices make a natural frame for your home photos and can be easy enough to make a whole batch if you want to give them as gifts. They are perfect for the rustic and primitive look and will go well for both every day and vintage photos. See how they are made here.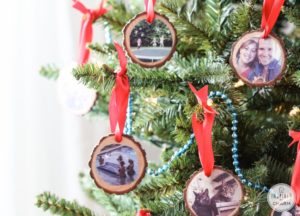 The blogger for our next ornament explains the way she thinks of them on her Christmas tree: "Our tree is filled with smiling faces of our children and family (some of which have passed on) and other favorite photos over the years.  Each year I choose a few new photos and make ornaments to add to the tree.
Love that about these keepsakes. The crafts she uses is putting the photo in a glass ball, but she doesn't stop there, she adds some festive flair with glitter. Check it out.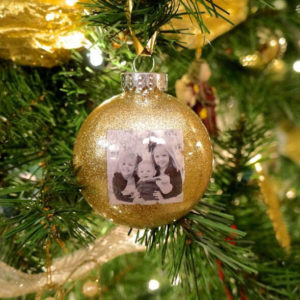 With this next ornament you can put six different pictures on it. This is wonderful for highlighting important moments in a person's life or special memories of a travel trip. It all starts with a wooden block and some pictures. Follow the directions here for help getting this cute ornament on your Christmas tree.
Decorating the family Christmas tree with keepsakes like photo ornaments makes it all your own. Something to show off and touch the heart strings. While crafting is my thing – and I love crafts that speak to my soul – even those that don't normally make crafts should get a chance to have one of these for their tree. So, make one for you and give one to them.
Enjoy!