Halloween is a favorite holiday of mine, so much creativity and fun to be had. Here is our collection of fun free Halloween quilting patterns that you can start making any time of the year.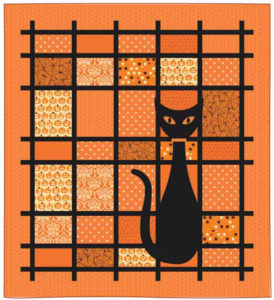 This wall quilt pattern was made of cat lovers at first, and then, the Halloween pattern was
added. Brought to you by McCalls Quick Quilting. From the editors, "So we made a second quilt using adorable Halloween fabrics to inspire anyone who wants an inexpensive, adorable Halloween quilt project. Best of all, we the pattern for this Halloween wall quilt is yours for FREE. Today's Friday Freebie is the Halloween version of That Cat!"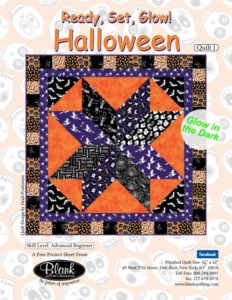 Ready, Set, Glow! Halloween Quilt
Super sweet Halloween quilt pattern that is set off by the fabrics. It is in pdf form. If you have
some patterned fabric in your stash that you are just dying to use (heh!) this is a fun quilt to do.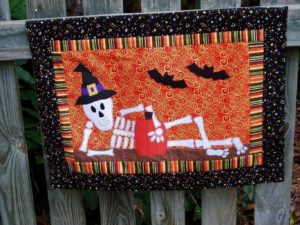 Mr October from Craftsy – Sexy Halloween Skeleton
Isn't he just the hotest thing since Dracula? Fun loving Halloween quilt wall hanging for your decorations!
Pumpkins and Patches on black
It's like a pumpkin sampler, with each pumpkin having a different type of block theme. Love the look, sure to make your fall homey and warm.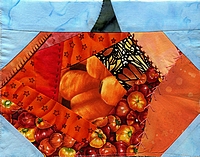 Perfect for a table topper, this free pumpkin block pattern is made to go crazy on… sounds fun.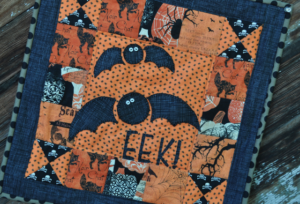 Super cute with fun bats flying in the middle. They have a template for the bats and the eek wording, in pdf that can be printed out and used. The orange and black mini quilt is a great project for beginners doing applique.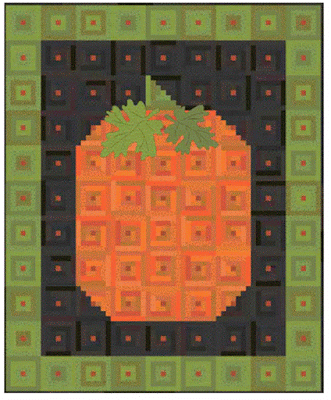 The Great Pumpkin Free Quilt Patternpdf file
From Andover Fabrics, this is a direct link to a pdf file as they do not have a page for their free quilt patterns.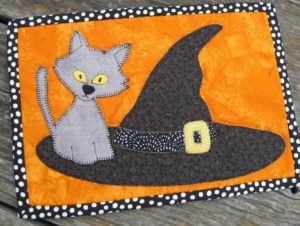 Cat on Witches Hat Mug Rug Pattern
From Craftsy sweet little kitty on her mommy's witch hat.. gotta love them pets! This free Halloween pattern can be used as it was made, for a mug rug, or it can be converted into a bigger wall hanging piece or quilt block – your choice.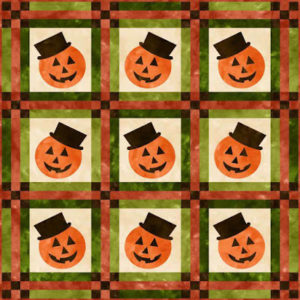 Jazzy Jacks Quilt (pdf file pattern)
All kinds of fun smiles for these Jackolaterns. The applique seems simple on these blocks, if a bit redundant.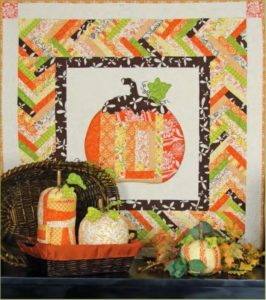 Pumpkin Wall Quilt Pattern(pdf pattern file)
Super cute wall hanging that would look good in any entry way – or other wall in your home.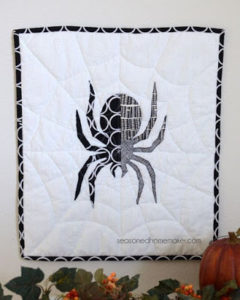 Spooky Spider Mini Quilt Pattern for Free
You cannot have a collection of free Halloween patterns without at least one spooky spider pattern. I love the simple black and white artsy look, minimalism in a homey quilt look 😉 There is a printable template available on the page.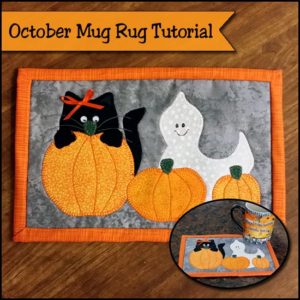 Another Pumpkin and Cat Mug Rug
Love this Ghost peeking out with a sweet smile – soo scary to think what is on his mind, lol.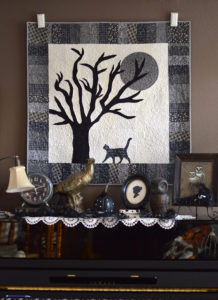 All Hallow's Eve Wall Quilt Pattern and Instructions
What a great wall hanging for Halloween, black and white with a cat, tree and moon – quilting art! She shows many of the pictures of her process through making this Halloween quilt, the link to the helpful instructions is in the first paragraph.
Monster Munchies Table Runner from McCall's Quilting
Excellent table topper for your Halloween decor, fantastic freebie for quilt lovers. From Mcalls: "This Monster Munchies quilted Halloween table runner pattern is a great way to showcase any group of holiday fabrics and it's so quick, you can stitch it today for your party tonight!"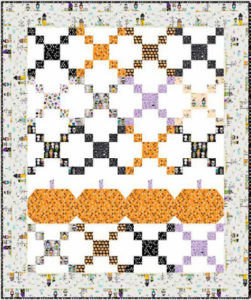 Spooked Quilt (pdf file pattern)
Using Halloween fabrics with a white background really makes them pop – choose ones that have deep colors and patterns. The line of pumpkins grounds the quilt and lo0oks amazing on a made bed.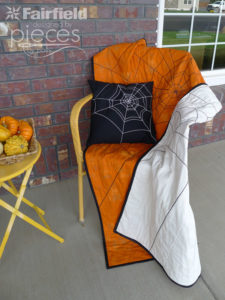 Reversible Whole Cloth Spider Web Quilt Pattern
Love how this free pattern shows off the quilting and techniques, rather than fabrics. Each will be as unique as the quilter who makes them.