Homemade treat bags make the treats inside that much more sweet. Here is a listing of our collection of free patterns for Halloween treat bags, so you can sew one up for your special ghouls today, without busting the budget.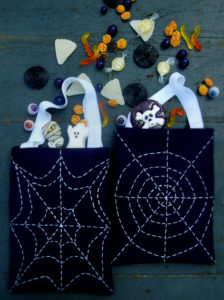 Glow in the Dark Spider Web Treat Bag
Patterned shared right on the blog with a full tutorial write up. This free pattern is easy to follow and your kids will love the glow in the dark aspect of the project. Great way to say Happy Halloween! if you want to use the project for gift baggies or party favors.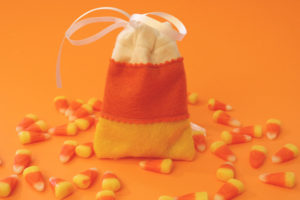 Candy Corn Felt Sachets for Halloween
Awesome tutorial with very helpful instructions for these great favor size treat bags. From the blogger: "Jo has been busy planning her daughter's Halloween party, so we were talking last week about making some treat bags for the kids. Our egg-shaped felt sachets were such a hit that we knew a similar design would be great for Halloween candy. And what better symbol to represent Halloween candy than candy corn? So I got some craft felt in yellow, orange, and white, and I got to sewing."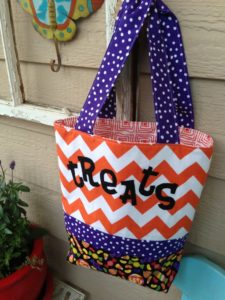 Tricks and Treats Bag Pattern
Pattern found on the blog with lots of photos, quilt lining makes this a treat bag that will last. Template for the words are at the end of the post. From the blogger: "I love making homemade "treats" bags for my children at Halloween. I often coordinate the bag with the costume! In this quick and easy pattern, it would be fun to change up the fabrics to match whatever your little ones are dressing up as!"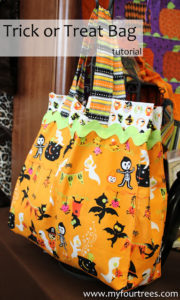 Trick or Treat Bag Tutorial
Love the fabrics in this GREAT BIG bag! From the fabric mill blog, straight forward easy to follow directions, the bag is a little tricky, but I love the ricrac look on it, so worth adding that extra touch.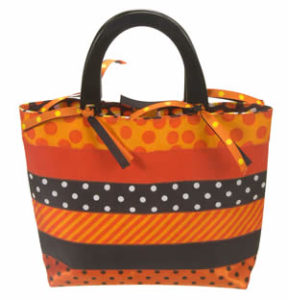 Ribbon Stripes Bag in Halloween Colors
From the tut author: "Various-colored ribbons and wood handles become a unique little bag, like this one perfect for Halloween. The project is quick and easy, as the bag and lining are made together."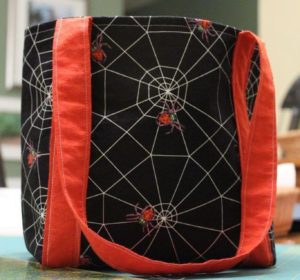 Wee Halloween Bag Sewing Pattern and Instructions
This is a pattern from Craftsy, you'll need to be registered to get it. From the designer:"For my son's first Halloween, I knew he wasn't going to collect a ton of candy, so I made him a small bag. It's the perfect size for a baby or toddler. The handles are long enough that an adult can carry it on his/her shoulder. The bag is made in such a way that the same fabric is folded over and used on both the inside and outside."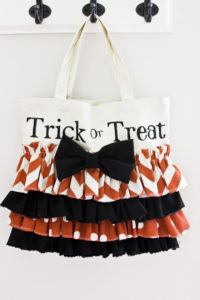 Ruffled Trick or Treat Bag
Cute for the girly girl who wants to Halloween Trick or Treat in style. The sewing pattern and instructions are straight forward, the project is a little longer. But, if you have the time, make one up!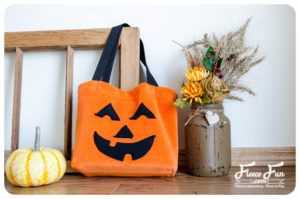 Pumpkin Tote in Fleece to Sew
This pumpkin tote is a fun addition to your Halloween collection that you can use year after year to collect candy or decorate your home! IT would be adding to the fun to let your little one help with the face design.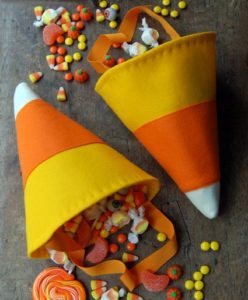 Candy Corn Trick or Treat Bags
Another take on the popular Candy for Halloween. This cone shaped bag is cute and would work very well as a favor or prize bag full of treats.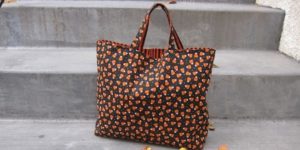 Reversible Trick or Treat Bag
Love the look, would be put to good use holding costumes as well as treats. From the blog: "Bag is a quick, little tote bag perfect for trick or treating. It's reversible so your little ghost or goblin can have their pick of which fabric shows. We kept the straps short so little ones won't drag it on the ground. Firm interfacing at the bottom helps the tote keep its shape."