The daisy chain stitch is not just for seed bead lovers. There are so many things that you can do with it. Here we have made a colorful bracelet using a simple daisy chain and 4mm druk beads. These work up really fast and look wonderful.

You'll need these supplies:
30 – 4mm glass druk beads; white
13 – 4mm glass druk beads; red
14 – 4mm glass druk beads; turquoise
8 – 4mm glass druk beads; yellow
1 spring clasp with tab or split ring
size D thread(nymo)/beading needle
2 clam bead ends
2 seed bead stop beads
You'll need these tools:
wire cutters
crimping pliers
1.) Knot your stop bead leaving a tail, add you bead end and put both threads through, so that you can bead in the tail. Close the bead end.
2.) Start beading with 5 white beads. Make a daisy(see the directions with pictures below), then five more beads. Repeat 4 times.
3.) Bead your bead end, opened in the up position, then your stop bead. Go back through the hole in the bead end and through a couple of the beads. Knot your thread. Close your bead end.
4.) Attach your bead ends to the clasp and tab or split ring.
Bead the Simple Daisy Chain
After the last bead before you wish to make a daisy, bead: 4 beads the color of the flower and one the color of the middle. See numbered beads in the picture. Keeping the beads snug, go back through #1(first picture). Pick up two beads the color of the flower and go through bead number 4(second picture). Tighten the daisy snug against the last bead before it.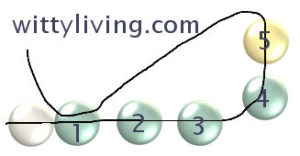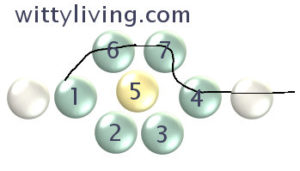 Enjoy!