Red coral and mother of pearl go very well together. Summer is the season for this set. Here are the other pieces: bracelet and necklace.

You'll need these supplies:
2 – 6mm red coral rounds
2 – 28mm- 50mm mother of pearl stick beads
6 inches 22 gauge wire; gold
2 – ear wires
You'll need these tools:
Round nose pliers
wire cutters
Chain nose pliers
1.) Cut wire into two 3-inch pieces. One inch in bend wire up.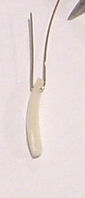 2.) Place bead on and bend front wire toward back. Wrap the wire three times. Not too tightly, leave room for the bead to move and dangle.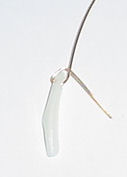 3.) Straighted the long end of the wire, bead a coral round.
5.) Attach the head pin to your earwires. Enjoy!