Kid love to hear the tales of leprechauns and make shamrocks on St Patrick's Day. You can make it full of fun for them by picking up some craft supplies and helping them enjoy some of the activities below. They can learn all about the Irish Flag and younger kids can make things with shapes.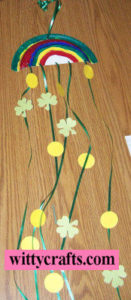 St. Patrick's Rainbow Craft
Shamrocks and gold coins rain down from this fun to make St. Patrick's Day rainbow.
Leprechaun Face
Smiling leprechaun face made from paints and a paper plate. Great craft for your kids to decorate their rooms with on St. Patrick's Day.

Shamrock Shapes Activity Project
Kids in preschool activity to learn shapes by making a shamrock, the circle and the triangle.
Shamrock Straw Topper Craft
Drink decoration for kids St. Patrick's Day.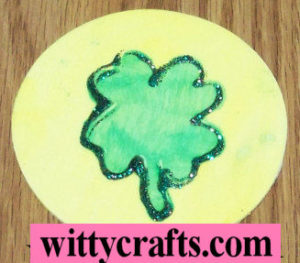 Shamrock Magnet Craft
Painted wooden circle with a magnet on the back to decorate the refrigerator in your home. Older kids love using stencils and learning this painting technique.
St. Patrick's Shamrock Antenna
Cute head wear for the holiday… kids will love getting all dressed in green and wearing a Shamrock Antenna headband.
Irish Flag Pencil Topper Craft
Fun and educational pencil topper for St. Patrick's Day.
Stamped Shamrock Craft
Using shapes to make a stamp is fun and using paint with a stamp you've made is even funner! Try it with this St. Patrick's Day shamrock stamp.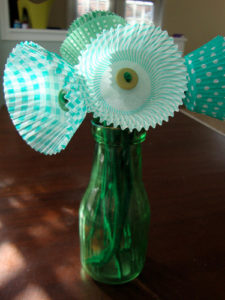 Green Paper Flowers
This craft makes a very pretty table center piece for Saint Patrick's Day.
Shamrock Barrette
Pretty ribbon shamrock to decorate your child's hair for Saint Patrick's Day.
Perler Bead Pattern: Shamrock
Perler Bead Pattern: Leprechaun's Hat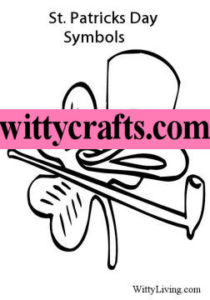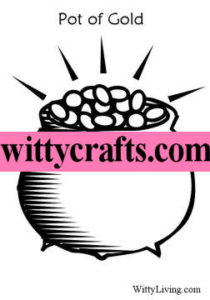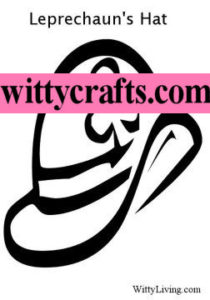 Coloring pages:
Easy Pot of Gold Paper Craft
Younger children will find this a very easy craft to make. The shape has big, bold lines with relatively few curves which should make it easier for preschoolers to cut out on their own.
Leprechaun Hat
Kids can make this cute leprechaun hat for St Patrick's Day – it's a fun craft which they will enjoy wearing, too!
Leprechaun Beard
Team this quick leprechaun beard craft with our leprechaun hat and the kids will be ready for St Patrick's Day!
Handprint Rainbow
So pretty and a great craft for groups! The hand print rainbow looks dazzling on the wall or on your classroom bulletin board! Perfect for St Patrick's Day or Bible Crafts with a Noah theme.
St Patrick's Day Wreath
Load the shamrocks on the rainbow and you have a sweet wreath to hang on your door for St Paddy's Day! This is a St Patrick's Day Wreath that your children will enjoy making.
Coffee Can Leprechaun Hat Bank
Really cool way to decorate your money and to teach your little one how to 'save their gold' by making this bank. Or you can have it hold gold coin candy – so much fun you can do!
Paper Bag Puppet: Leprechaun Craft
Paper bag puppets are fun to make and then fun to use! This craft uses a template to color and then glue on, glue sticks work best.
Leprechaun Trap
You have to catch a leprechaun if you want his gold. This trap is sneak, just like the leprechaun. It uses a Kleenex box and some colored paper.
Pot of Gold Favors or Center Pieces
Having a St Patrick's Day kid's party? Then you have got to try this craft, it will make the event that much more special! These mini pots of gold are the perfect little place setting for a St. Patrick's Day party. You can make these in any size – just get the pot you want to start with and size the pipe cleaners accordingly.
Rainbow Cupcakes
Kids love food crafts and rainbow cupcakes will make their day sunny and bright 😉 They taste great, are pretty easy and you will love them as much as your kids.
St. Patrick's Day Marshmallows
Super simple, super yummy marshmallow goodness. St Paddy's Day never tasted so good!