Table runners, or toppers, are a fun and useful project to make for quilters. They decorate the home, protect the tops of tables, and give quilters reasons to try new techniques. Here you will find all kinds of free table runner patterns for quilters with many different themes and using all kinds of techniques.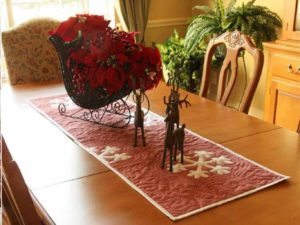 Snowflake Table Runner Pattern
Snowfall Tablerunner located on Craftsy and created by Buttons and Butterflies. A macro look at falling snowflakes that will give your winter table a fun seasonal look. If you like to free motion quilt, this is the perfect project for you! All of the decorative quilting on this is amazing.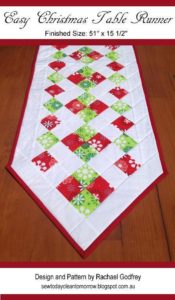 Easy Christmas Table Runner
I admit, it doesn't look like this free table runner pattern will be all that easy, but if you know strip methods, you will see why it is. If not, try it and find out how this cute Christmas – or any season – pattern is so easy to do.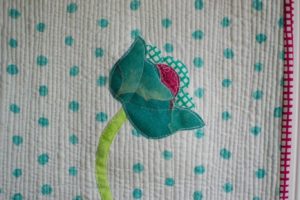 Wild Poppy Quilted Appliqué Table Runner
Spring and summer flowers on the table using this quilted pattern will brighten up your room and make the doldrums of the winter season go away. Free patterns at Craftsy require an account, but they are well worth it!
On the Bright Side
Super sweet nine patch blocks make up this table runner. Pattern is not hard, but it does look a bit involved with all the small squares.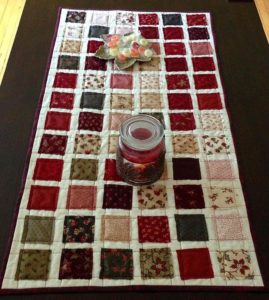 Mini Charmer Table Runner
Perfect for all of those scraps you have cut in the charms, right? Love the quilting on this one too, easy but it looks great!
Zig Zag Charm Pack Table Runner from Missouri Star Quilt Company's Jenny, love her, she shows a quick and easy table runner… really cute and it can be made as along as you want.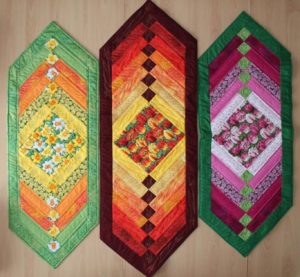 Chevron Table Runner
Don't you love the one with the flowers fussy cut in the small squares… so cute and way to bring pout the theme of that one!
The Rose Table Runner and Pillow Case – Quilt Pattern
There is a pattern for a pillow as well, uses fat quarters to make and would be perfect for Valentine's Day decor.
Contemporary Table Runner
The star pattern in white really make the pattern fabrics pop with this one. You may want to try something similar if you make one of these.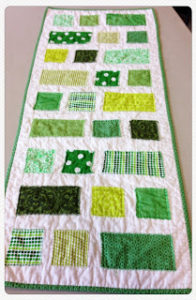 Quick and Easy Table Topper Tutorial: Squares and Rectangles
I love the modern look of the fabrics used and the one color tone of this runner. Blogging your quilt tut for everyone is an awesome gift to us quilters, be sure to say thank you in their comments if you use their pattern!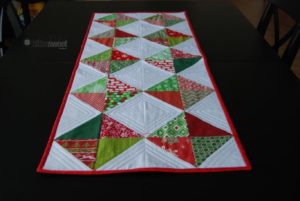 Simply Helixed Charm Pack Table Runner
White back with bright patterns bring out the contemporary-ness of this simple to do pattern. I like that you would be able to theme this easily with seasonal fabrics.
Sweet Spring Simple Free Quilted Table Runner Tutorial
A simple tutorial using strips of spring fabric – loved the strawberry design in this one. Just taking the block and putting it this way and that makes the table runner. Just goes to show you, it's all in the layout!
Classic Diamond Table Runner
Need to practice making half-square triangles? If so, this is the free table topper pattern you want to try.
Bursting Buds Table Runner
This reminds me of spring, but I think the fairy forest or summery colors can be used. For that matter, maybe even fall? Whatever you pick, this is a sweet free table runner pattern.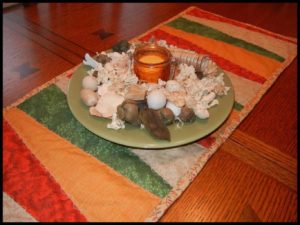 Angled Stripes Table Runner
Super simple and can be made for any space in your home. This is a great free pattern for using in a man's dining room.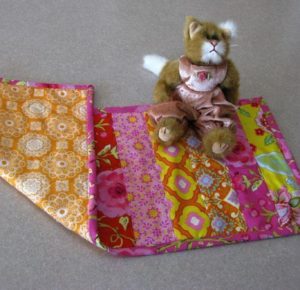 Skinny Quilted Table (or Dresser) Runner
Skinny can be made out of any of these patterns really, but this quilt project will show you how that is done.