If you are looking to make a mini album that will last, using file folders is one of the best ways to go. They are made to be durable and can hold a fold without ripping. Here are some that I believe you will enjoy making.

First is a Christmas planner mini-album that is gorgeous! It is the perfect fit between being organized for your family's Christmas season and looking amazing doing it. The directions for this festive planner is found on I Wanna Build a Memory's blog.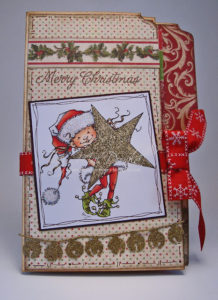 This book type file folder mini album takes a more traditional album shape and would fit any chunky type of embellishments or memory items you may want to save, like a barrette your daughter used to wear snapped into a page that has a photo of her wearing it. Find the tutorial  here, on the BurstsofCreativity Blog.
This mini file folder album tutorial is decorated for Halloween, very cute, but remember that they can be themed for any possibility. Pets, day int eh life, etc can all be done with these albums. Enjoy the video and click through to let her know how much you like it.
The next file folder mini album actually used the above tutorial to make hers, and she did an AMAZING job putting it together as a piece for her pet. These albums really make up fast when you have a theme for them and you have a set of papers with embellishments that match up to each other and the theme. You can find her instructions on the blog page, 
A 'Devoted' File Folder Mini Album
.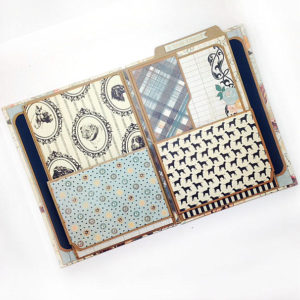 This family album is the simplest from of file folder album and I love making them. This is the first type that I learned how to make and I would do these for any theme, but I think they are an especially great gift for extended family when you want to share special moments. They don't take up too much room and the are sturdy enough to be a keepsake for years to come. You can find the tut right here:  Manila Folder Album Instructions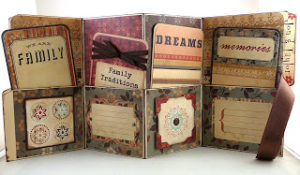 Our next example of file folder albums is wider and book like. I like that it used the folder for more heft to the album, but I'm not sure it couldn't be made with heavy paper as well.
And our last file folder mini album will really go over the basics of making a file folder album, stressing the importance of making strong folds and using the right adhesive.
I hope you enjoyed my little journey of finding file folder mini album tutorials around the net that we can use to help make our own. They aren't hard to do and will make fun keepsakes and gifts. Enjoy!