Making Christmas ornament is a favorite past time in many families, as it makes a Christmas tree extra special when you see handmade ornaments adorning it. Here is my collection of easy to make Christmas tree ornaments, thy are perfect to make in groups, with kids, or just for fun!

I like these, very simple steps to make ten different ornaments with a clear glass ball. She only does three in detail, so for the one that has the word merry on chalkboard paint, here is a tip: use a stencil for the word and sponge it on.
I agree that the favorite is the snowman ornaments she makes. Beyond being simple, these Christmas tree ornaments are "cheap"… but look amazing!
More Christmas Bulbs to make. She uses puff paint and spray paint, instead of acrylic paints, must cut down on painting time. While she has a feather ornament inside a clear bulb, like many do, she takes an extra step and adds glitter to the feathers first – very cute.
A collaboration for glass ornaments, so cute and I love the snowmen in these, super easy to make, especially the faux snow one… I like these crafts, she talks a bit. Crafting starts at 1:50…
Painted pine cones and melted snowmen are fun for your next Christmas tree. Check out all she has to offer here and let me know which was your favorite.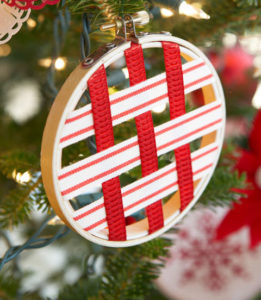 Embroidery Hoop Ornament
Ribbon on a hoop, you probably have these supplies in your craft room right now.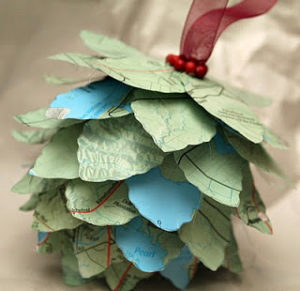 3 Simple Ornament sin this Blog Post: Feeling Ornamental
Very simple ornaments to make, above is a picture of my favorite – I am going to use a map of the place where we went on family vacation to make it more special for our homemade Christmas tree.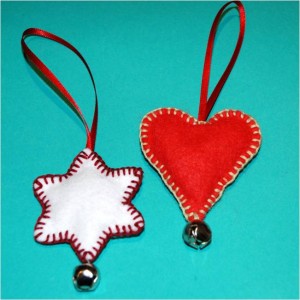 2 Easy Felt Christmas Ornaments to Make
If you can do a blanket stitch, you can make these super simple felt ornaments. This is a perfect craft for teaching a sewing class or girl scouts.