Free crochet patterns for Christmas are plentiful on the internet, if you know where to look. While Pinterest will give you plenty of eye candy, often the links to patterns are to ones that are being sold.
While there is nothing wrong with having to make a purchase – people should get paid for their work – having a freebie now and then helps the budget. This is because fiber crafts have made such a turn around in popularity since I was young… for the better in my humble opinion. One of the things I like most about making up a few of these is that they will use up my scraps of yarn and the end of my skeins – I hate wasting all of that craft stuff. Plus, who has the room to store it?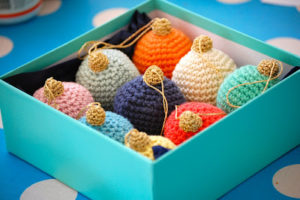 These are super sweet crochet Christmas ornaments that look like their glass bulb counterparts. You can make them up in any color – or more than one color. The pattern is simple for the advanced-beginner crocheter to follow. You can find the crochet pattern here.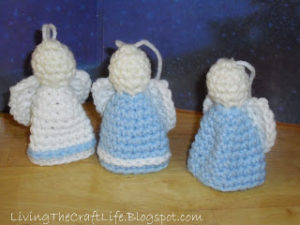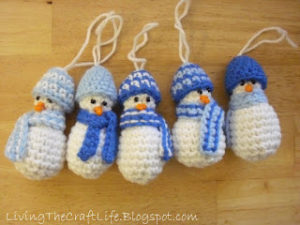 So cute! These mini snowman Christmas ornaments have an easy pattern for the body and the parts – like the hat and scarf. That pattern is here. This blogger also has the directions for a mini angel crochet ornament 😉 Love it! Check that one out here.
This crochet pattern is for a Christmas light bulb, so simple and so cute. Make up a string of these for your tree and use up small bits of yarn that you have. The video is a crochet along, she really makes it easy to follow and in just a few minutes you have a crocheted ornament done!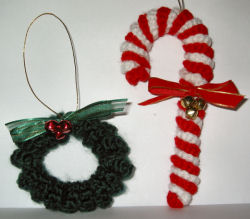 I've always loved the 'twist' look in some fiber projects. This free crochet pattern puts it to good use with a candy cane ornament and a wreath ornament patterns. She makes them easy to make as she highlights that basic twist pattern first, so you can get the hang of it before attempting to make the projects. Here are the free crochet patterns.
I made up a bunch of these this past year to send to my siblings and other people that I love for Christmas. I liked that it was flat, all one color and could easily be placed in a Christmas card. The free pattern is a crochet along, as many of the videos are, and is a super simple pattern to make.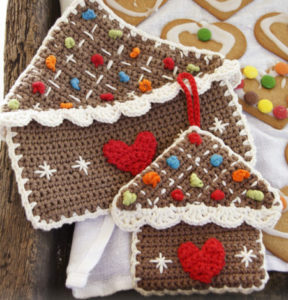 The pattern is for a crocheted Christmas trivet and potholder that looks like a gingerbread house. This pattern is for the beginner-advanced, not so easy to learn the stitches you don't know, but will take you to another level if you know all of your basic stitches. You can find the instructions here. Scroll down for helpful videos too!
Christmas bells are pretty and can be done in any color. These make a good ornament for weddings too. The creator of the video goes very slow, which is great for beginners. It is an easy crochet pattern that can be done over and over and made in under 20 minutes when you get the hang of it.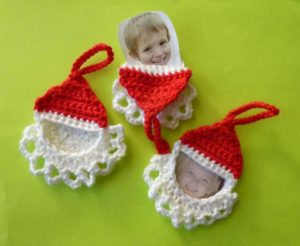 These sweet Santa ornaments are face frames! Isn't that the cutest idea? They work up quickly and are super fun to make with photos of your child's or grandchildren's faces. You'll have to sign up at Craftsy, but it is a free membership and they have all kind of great patterns for all occasions. Try this pattern here.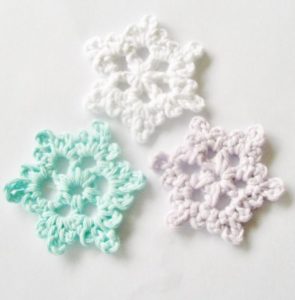 Snow and snowflakes are the standard symbols of winter – being from 'UP North' believe me when I say it is all we see for a long time every year. So, it is important to have them represented on the tree. This easy to make snowflake crochet pattern is free from Craftsy, like the above one. The directions are here.
A flat star is a perfect for your Christmas tree. This is a simple crochet along. So if you have time this is a good one to watch.
I hope you enjoyed seeing all of these free crochet patterns for Christmas ornaments and will try to make some for your tree – or give them as gifts!
Enjoy!