The Christmas tree has been a symbol of the Christmas season since before the advent of Christianity – seems impossible, huh? But it is true! From the early Romans to the Egyptians, the evergreens from the tree and the tree itself would remind the people that the sun would shine and things would grow again when summer comes.

Queen Victoria started the tradition we know today by having a sketch of the royal family in front of a tree at Christmas time in 1846. It blossomed from there.
Today, we cover our trees with decorations and ornaments – even ornaments made to look like Christmas trees. Here is our collection of tutorials all around the internet of these kinds of ornaments.
Super Simple Paper Tree Ornaments
This is a great ornament for a school project for older kids who have their measuring and cutting down. Or, paper crafters who enjoy making ornaments our of festive papers.
Amazing and simple tree ornament that you can share in the fun with your kids, including a super cute and easy mini Christmas tree button ornament.
Here is a string tree ornament, that you can make small or large for table top holiday decorations.
Fun ribbons and beads Christmas tree shaped ornament, it you know how to thread a needle, you can make this easy craft. Great directions and photos that makes it easy to put together. Get the Christmas tut here.
Rustic Twig Christmas Tree Ornaments
Love this one, so simple and kids would love making it from starting with getting the branches and breaking them into pieces to hanging it on the tree. The directions for this tree decoration is here.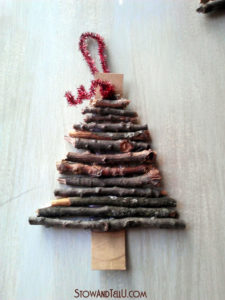 This string art tree ornament is super cute and simple – boys will love doing this craft because they get to play with dad's hammer, but girls like it too! Here is the handmade ornament directions.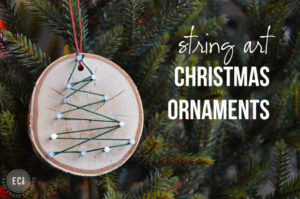 There are so many ways to decorate a felt tree and that is what this blogger did… she went all out with crafty decorations. Take a good look at how she did these and do some up yourself, they aren't time consuming and your family would love them. Here is her step-by-step instructions.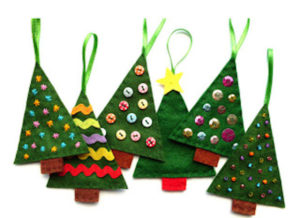 A ribbon and branch Christmas tree shaped ornament that the blogger says: "Anyone who enjoys primitive-style arts or crafting will love these cute little ornaments." I agree, very sweet and easy to make! Here are the directions.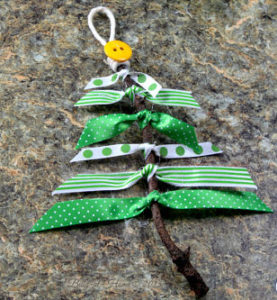 I found a tutorial very similar to the one above, but instead of ribbon they used sparkly pipe cleaners for their ornament craft. Here is the tutorial, I know I would hang this cutie on my tree.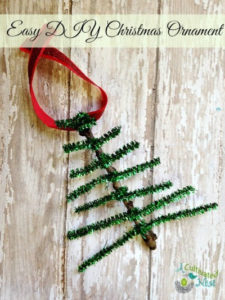 Another ribbon and stick ornament to make. This one is more adult-ish and while it is easy to make, it may take a little time. I love the loopy look to it and think it would bring out the home crafty look of any Christmas. Here are the ribbon tree directions.